Events + Happenings
Wednesday, October 22nd 6:30 – 8:30 pm Steve Dolinsky (The Hungry Hound)
Always hungry, seldom speechless, Steve Dolinsky a.k.a. ABC 7's The Hungry Hound is appearing at Marcel's! Steve has won 12 James Beard Awards for his TV and radio work featuring Chicago's best restaurants, bars and food shops. Join him for a fun evening of cocktails and sweet & savory crostini while he shares his experiences and stories from around the world. $50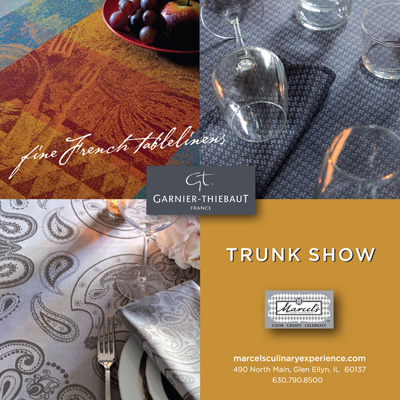 The Garnier-Thiebaut trunk shows at Marcel's have become a perennial favorite with a 20% discount on these fine french table linens. Join us Sunday, October 26th from Noon to 5 pm to see all of the beautiful patterns and get this special price on what's in stock or special orders. All Garnier-Thiebaut purchases of $100 or more will receive a gift with purchase and special orders will be here in time for Thanksgiving. Make your table beautiful this holiday season with Garnier-Thiebaut!
Here's what's happening in our kitchen this week:
Tuesday, October 21st 11:00 am – 2:00 pm Free Demo Jenny's Fresh Spring Rolls with Dipping Sauce
Tuesday, October 21st 6:30 – 8:30 pm Hands On Prep School: Perfecting Chicken with Chef Jamie Bordoshuk $50 Seats Available
Wednesday, October 22nd 12:30 – 2:30 pm Demo Midday at Marcel's: What We're Eating, Buying and Trying Now with Chef Robin Nathan $35 Seats Available
Wednesday, October 22nd 6:30 – 8:30 pm Demo Cocktails and Crostinis: An Evening with Steve Dolinsky $50 Seats Available
Thursday, October 23rd 6:30 – 9 pm Hands On The Art of Blending with Chef Kelly Sears $80 Seats Available
Friday, October 24th 6:30 – 9 pm Hands On Crisp and Clean: Napa Valley in the Fall with Chef Paul Lindemuth $80 Sold Out!

Saturday, October 25th 11:00 am – 12:30 pm Hands On Tricks & Treats: Little Kids and Adults Halloween with Chef Katie Wojciechowski Ages 6 – 8 $50 for adult and child together Seats Available
Come Cook Create and Celebrate at Marcel's!